Stainless Steel Cage Hardware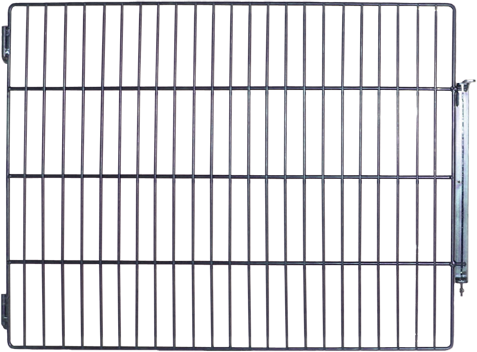 With high tensile strength and resistance to corrosion, 304 stainless steel hardware is ideal for cattery and Veterinary clinic use.
Our electropolished stainless steel doors are designed and manufactured to last indefinitely, have an attractive appearance and are easy to clean. Moreover, stainless steel meets Best Practice® standards.
Door Features
Electropolished Stainless steel
Vertical bars with 3-5 horizontal braces
Can be mounted to open left or right
Gudgeon Hinge Features
Stainless steel
Screw-in
¼" diameter x 3½" length
Tube & Gudgeon hinge system allows door lift-off for easy cleaning
Latch Features
Laser-cut, 304 stainless steel
Single-hand operation
2-point closure prevents animal escapes
Left-handed or right-handed option
Hardware Specifications
Cage
Perimeter Bar Thickness
Vertical Bar Thickness
On-Centre Spacing
Perimeter Bar Thickness:
6.0 mm
Vertical Bar Thickness:
3.5 mm
On-Centre Spacing:
30.0 mm
Perimeter Bar Thickness:
6.0 mm
Vertical Bar Thickness:
3.5 mm
On-Centre Spacing:
30.0 mm
Perimeter Bar Thickness:
7.5 mm
Vertical Bar Thickness:
5.0 mm
On-Centre Spacing:
36.0 mm
Perimeter Bar Thickness:
8.0 mm
Vertical Bar Thickness:
5.0 mm
On-Centre Spacing:
50.0 mm
Perimeter Bar Thickness:
8.0 mm
Vertical Bar Thickness:
5.0 mm
On-Centre Spacing:
50.0 mm
Perimeter Bar Thickness:
8.0 mm
Vertical Bar Thickness:
5.0 mm
On-Centre Spacing:
50.0 mm
Dimensions in mm